To say that the 2020s have been an extremely exhausting decade thus far would be a huge understatement.  For people working in various creative fields, this exhaustion has come with many additional hurdles as traditional, in-person, means of advertising their art were not available, particularly during the early years of the pandemic.  Thankfully, various different forms of community awareness have made it possible for various video games and comics to reach a wider audience, be it through "Nintendo Direct" inspired showcases for indie games, digital comic festivals, or positive word of mouth on social media.  That being said, it is difficult for every single title released to get the spotlight, as so many wonderful video games and comics have been released this decade, both independent and mainstream, and many more are planned for release in the near future.  That is why I have decided to do my part in signal-boosting a variety of titles that I personally loved and enjoyed these past few years so that more people are able to discover and enjoy them for themselves.  
This post will focus on fourteen independent video games that were released during the three-year time period of 2020 to 2022, as well as one developer who has released several titles throughout this time period.  The titles all vary in terms of art style and gameplay, but many common themes within them are queer positivity, creative game design, and a strong narrative focus.  I have also chosen to list these titles in terms of both age appropriateness and inclusion of potentially triggering content.  This means that titles that can be enjoyed at any age and have next to no triggering content are at the top of the list, while games that are only intended for adults and have severely triggering content are at the very bottom of this list.  This is based partially on my subjective experience of playing said games, the developers' own descriptions and discussions of the games in their own words, and any age ratings available in digital stores.
All-Ages (Little to no triggering content, appropriate for any age)
Carrot
Developer & Publisher: ChaseFOX
Carrot is a short, relaxing game that focuses on a day in the life of Nyx and Ruby as they visit their loved ones and help them solve problems through a series of puzzles.  The visuals in this game are gorgeous to look at, with bright and colourful backgrounds and charming characters.  The game evokes the feeling of briefly visiting a world both familiar and fantastical.  Recommended for players for those who want to unwind and enjoy a game without stakes or pressure.  Available on Steam & itch.io for Windows.
Teacup
Developer: Smarto Club
Publisher: Whitethorn Games
Teacup is a sweet adventure game focused on a day in the life of Teacup, an anxious introverted frog who wants to put together a tea party but has run out of ingredients.  The world and characters feel like a modern picturebook that has come to life, the minigames are fun, and watching Teacup gradually grow more confident in her pursuit of ingredients was a joy to experience.  Overall, a calming and delightful little game.  Available on Steam for Windows and the Nintendo Switch.
The Gardener and the Wild Vines
Developer & Publisher: Finite Reflection Studios
The Gardener and the Wild Vines is a creative platformer, in which you play as The Gardener who is on a quest to save his beloved Prince who has been locked away in a tower.  The platforming is easy to learn while still offering a genuine challenge as the player progresses.  Combined with a heartfelt story and charming character, this a must-play game for fans of the genre or those searching for a wholesome queer fairytale.  Available on Steam & itch.io for Windows & macOS, as well as the three current generation consoles.
Early Adolescents (Games begin to tackle heavier themes but are still typically light on any content warnings, recommended for players aged ten and up)
npckc's Video Games
npckc is an independent video game developer whose visual novels I have greatly enjoyed over the years.  They have the skill able to cover a vast range of variety of different topics, be they in reality or fantastical worlds.  The overall theme of most of their work is the importance of communication, while also discussing rewarding it can be to forge connections with other people even when it takes a while to understand their circumstances.  While the vast majority of their games are playable for all ages, there are a couple of titles (most notably A Year of Springs and a pet shop after dark) that cover heavier topics, so it is still important to read any content warnings where applicable before playing. 
Their entire games catalogue is available on itch.io for the three major PC operating systems.  Four of their largest games are available on Steam (A Year of Springs, A Hero and a Garden, a pet shop after dark, and A Tavern for Tea) for all operating systems.  Two titles are available for current generation consoles (A Year of Springs and A Hero and a Garden), and several of their titles are available for Android.
Dungeon Witches
Developer & Publisher: 1oo games
Dungeon Witches follows a girl named Elle, who discovers that her sister Erity has entered a dungeon full of dangerous witches!  Too afraid to leave her house, Elle unlocks "Home" magic, which allows her to use the building in creative ways to traverse environments, solve problems and defeat enemies in the quirky Rogue-lite RPG.  A unique and rewarding type of RPG, even for those not familiar with the Rogue-lite genre.  And watching Elle kick her house at enemies will never stop being funny.  Available on itch.io for the three major PC operating systems.
Super Squidlit
Developer & Publisher: Squidlit Ink.
The sequel to the short and sweet Game Boy-inspired Squidlit, Super Squidlit picks up where the original left off, only this time for a much larger game that evokes the visual style of the Game Boy Color.  Like the original game, you play as Plip, an adorable purple squidlit, in a traditional platforming adventure where you have to use her ink to defeat enemies and traverse environments.  In addition to this, there are segments where you control Plip's old nemesis Skwit Skwot (GOD EMPEROR!), as she traverses environments and defeats enemies in a magical first-person shooter.  Recommended for those looking for a good chuckle and cute visuals.  Available on Steam for Windows and the Nintendo Switch.
Teenagers (Games have more notable and intense content warnings which are unavoidable to the gameplay experience, reading up on content warnings is advised before playing, recommended for teenagers and older)
gloom reducer
Developer & Publisher: owch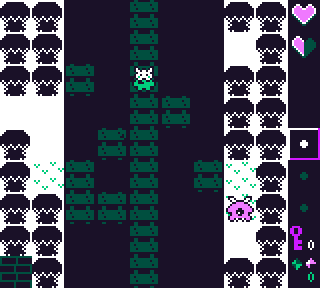 gloom reducer is a delightful game that is hands-down one of my all-time favourite games.  That being said, it is also one of the most challenging games to describe, as this game must be experienced by playing it to fully comprehend why it's so brilliant.  I will say though, that the game made me think about how we occupy space within video game worlds, and how we affect the environment therein.  So, if being posed with that sort of question intrigues you, please give this game a look!  Available on itch.io for Windows.
Margo
Developers: ygretz & upsideyonder
Publisher: ygretz
Margo follows the day in the life of the titular lead character, as she prepares to go through her day after an impromptu nap.  Much like Carrot, this is a short point-and-click adventure game with a quirky cast of characters and a delightful art style, though Margo is significantly more melancholic in tone and visuals.  This title is completely free, with the option to donate to the developer on both storefronts, so if you are interested in a short adventure game give this title a shot!  Available on Steam and itch.io for Windows and macOS.
Please Be Happy
Developer & Publisher: Studio Élan
Please Be Happy is the newest yuri visual novel from the developers at Studio Élan, focusing on the life of a travelling gumiho, a type of fox spirit that appears in Korean folktales, named Miho as she arrives in New Zealand searching for an important person from her past.  While there, she encounters a vampire named Juliet and a human named Aspen, who both provide her with valuable friendships and, eventually, the possibility of a romantic life together.  Both romance routes were extremely well-written, exploring the personal struggles Miho, Juliet and Aspen all encounter in a way that is believable and sincere.  While the game is generally fluffy and sweet, it does cover subjects of mortality and loss, so please keep this in mind.  Recommended for those looking for a good queer urban fantasy.  Available on Steam and itch.io for the three major PC operating systems.
So May It Be: A Witch Dating Simulator
Developer & Publisher: Planchette Games
So May It Be: A Witch Dating Simulator is a short, sweet, sapphic visual novel.  As the title suggests the game focuses on the lives of four witches, who are in their final year of high school together.  With graduation on the horizon, the player character can take their three friends out on dates, and eventually pursue a relationship together.  The characters are all charming, the dialogue is genuinely funny, and the atmosphere is extremely relaxing from beginning to end.  Available on Steam and itch.io for the three major PC operating systems.
Super Lesbian Animal RPG
Developer & Publisher: ponett
Super Lesbian Animal RPG is, as the title suggests, a JRPG game whose main cast is sapphic and anthropomorphic animals.  This colourful RPG features a lovely, and very queer, cast of characters, an intriguing story, one of the best damn video game soundtracks, and battles that require genuine strategy.  On top of all these excellent factors is the well-written character development for the main protagonists, focusing on the insecurities and ennui we encounter as twenty-somethings.  Overall this is a delightful game full of humour and heart.  Available on Steam and itch.io for Windows.
Mature and Adult Audiences (Games that are intended to only be played by adults, as they tackle subject matter that is not intended for children and may feature intense/disturbing writing, visuals and/or audio.  Reading content and trigger warnings before playing these games is strongly advised) 
77 Oleander Avenue Ghost House Investigation
Developer: Runa Liore Winters
Publisher: Waxweal
77 Oleander Avenue Ghost House Investigation is a terrifying and atmospheric visual novel and one of the best queer horror titles you will experience in video games or any other medium.  It was one of my favourite titles of 2022 and I cannot recommend it enough, though with the caveat that players read the content warning provided by the developer before fully diving in.  You can check out my full thoughts on the game over on Okazu where I gave a more in-depth review of the title.  Available on Steam and itch.io for the three major PC operating systems.
Heartstop
Developer & Publisher: M.A. Starling
Heartstop is a grim narrative-focused game, focusing on the life of Cora, a young woman who lives in a world where every living creature but her has been frozen in time.  When she encounters Mollie, another young woman unaffected by the freeze, Cora has to decide whether to pursue the truth and, maybe, figure out how to end the time freeze once and for all.  A character-focused game with solid writing and a well-crafted emotional core which naturally shifts from oppressively bleak to charming slice-of-life.  Especially noteworthy is the game's use of audio and visuals to encapsulate the characters' moods.  Available on Steam and itch.io for Windows.
The "Spare Parts" series
Developer & Publisher: Sophie Rose
Spare Parts is an ongoing series of kinetic visual novels focusing on the life of a young woman named Lucy who inadvertently meets four robot siblings who have been living in secret in the town she recently moved into.  While happy to befriend (most of) them, it soon becomes apparent that more is going on behind the scenes than any of them anticipated.  Arguably one of the best examples of a kinetic visual novel, the games of this series all showcase top-tier writing and creatively implemented storytelling that can only be accomplished in a video game.  As of this writing episodes one and two have been released, while the third episode currently has an in-depth demo available with the complete game slated for later this year.  The series can be purchased on Steam and itch.io for the three major PC operating systems.
Without a Voice
Developer: L³
Publisher: Bellhouse (Studio Élan)
Without a Voice is a short, grim, sapphic, visual novel inspired by fairytales.  The game focuses on a week in the life of Cassidy, a princess in exile, who meets and befriends a mysterious woman named Elowen.  As the story progresses, we learn more about Cassidy's situation and unravel the mystery behind Elowen's identity.  A well-written narrative that really makes you consider the choices you want to make, especially in regards to how they impact characters' perceptions of each other.  The game is completely free, with the option to financially support the developers through donations or DLC on either storefront.  Available for Steam and itch.io for the three major PC operating systems.
Image Sources: All images of video games belong to their respective game developers and publishers.  Header image source "Person holding blue and orange Joy Con controller" by Kelly Sikkema via Unsplash